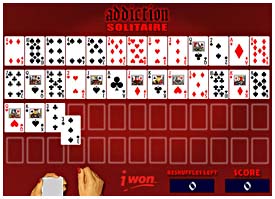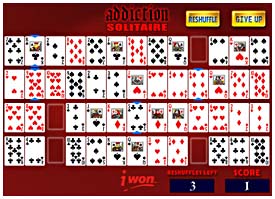 It won't take long for you to become addicted to Addiction Solitaire, the card game! Create a row for each suit that starts with the Deuce on the left and the King on the right. The Aces are removed after dealing, so the rightmost column will be blank when you correctly place all of the cards. Move the cards around using the four blank spaces on the board. Only one card can fill these spots, and that is the one which follows the card to the left of the empty space by value and suit. If you find yourself without any moves left, you will get to reshuffle the cards 3 times. But once you've used that option up, you must keep organizing the cards until each is in its correct spot or you have no moves left.
New boards bring exciting challenges!
The higher you score, the more coins you earn!
Play the Addiction Solitaire online game at IWON! Try this and other Card and Board games at the best gaming site on the Web!
Play Now
|
Register
Tags:
Online Card Game
|
Online Board Game
|
Board Games
|
Card Games