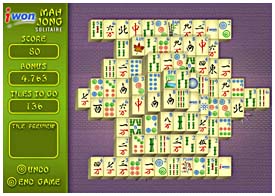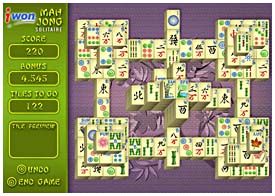 Can you match wits with IWON's Mah Jong? This board game challenges you to pair up tiles until you have cleared the screen. A tile must have a side edge free and no other tiles on top of it for it to be selectable. Some tiles, however, can be matched if they share similar themes, such as different flowers or the four seasons. Bonus points are awarded for speed, so get that mind moving and give this game a try!
New boards bring exciting challenges!
The higher you score, the more coins you earn!
Play the Mah Jong online game at IWON! Try this and other Card and Board games at the best gaming site on the Web!
Play Now
|
Register
Tags:
Online Card Game
|
Online Board Game
|
Board Games
|
Card Games