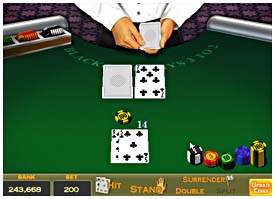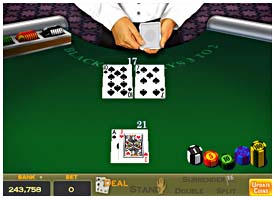 Blackjack is the classic casino game that will be a big hit with you! Your goal is to get a hand higher than the dealer's without going over 21. First place your bet. Then keep hitting and receiving cards until you are satisfied with your total. Once you choose to stand (which means you don't want any more cards), the dealer will reveal his hand and you'll see if you won. Hit a Blackjack (your cards equal exactly 21) and you'll score big! Go over 21 and you'll bust!
Bet more to win more!
The higher you score, the more coins you earn!
Play the Blackjack online game at IWON! Try this and other Free Casino games at the best gaming site on the Web!
Play Now
|
Register
Tags:
Casino Games
|
Online Games
|
Slots Games
|
Flash Games