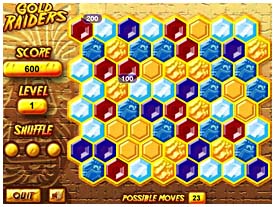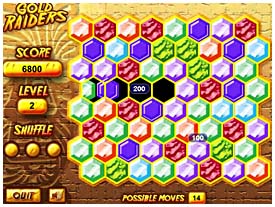 Gold Raiders, the arcade game, is filled with adventure! Deep in a jungle rainforest is an ancient tomb filled with treasures, and it's up to you to find it. The key is to create a line of 3 or more matching treasure pieces. This is done by clicking on any 2 adjacent pieces to swap their positions. Connect the matching pieces and they'll slide off the board (earning you points!) New pieces will slide into the open space, leaving you more treasure to grab!
The higher you score, the more coins you earn!
Multi-level action!
Play the Gold Raiders online game at IWON! Try this and other Puzzle and Arcade games at the best gaming site on the Web!
Play Now
|
Register
Tags:
Puzzle Games
|
Online Games
|
Arcade Games
|
Flash Games