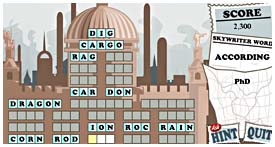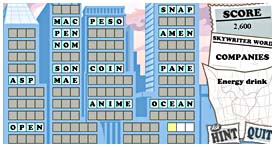 Play Skywriter, the awesomely addictive word game that will quickly make an impression on you! Use the Skywriter Word to create smaller 3, 4 and 5 letter words that fill the windows of your building. You'll get a clue to identify each word, but it will take street smarts and word savvy for your scores to take off!
The higher you score, the more coins you earn!
Multi-level action!
Play the Skywriter online game at IWON! Try this and other Puzzle and Arcade games at the best gaming site on the Web!
Play Now
|
Register
Tags:
Puzzle Games
|
Online Games
|
Arcade Games
|
Flash Games