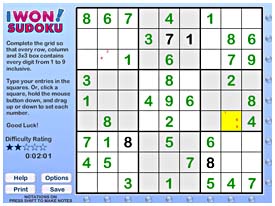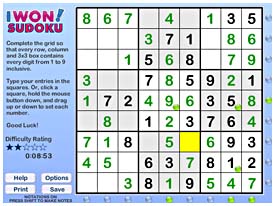 Have fun with Sudoku, the puzzle game that's been sweeping the nation! Fill in the grid so that each row, column and box contains every digit between 1 and 9. But make sure you don't repeat numbers or else you'll be back to square one!
The higher you score, the more coins you earn!
Multi-level action!
Play the Sudoku online game at IWON! Try this and other Puzzle and Arcade games at the best gaming site on the Web!
Play Now
|
Register
Tags:
Puzzle Games
|
Online Games
|
Arcade Games
|
Flash Games