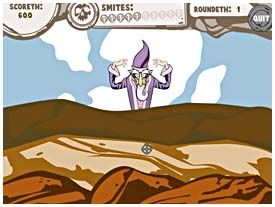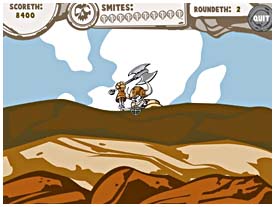 Evil lurks at the edge of the kingdom, and a noble soldier is needed to fight wicked medieval creatures. It all happens in Warrior's Quest, the action game! Survey the barren landscape, and watch as treacherous skeletons, wizards and owl bears pop up around you. Click on the fiends to slice them up with your mighty sword. The more of them you eliminate, the more points you earn. But beware, brave warrior - your strength meter decreases each time you fail to hit a medieval creature. Lose all of your strength and your quest will end. You must also watch out for the elf. He is your loyal follower. Hitting him with your sword will reduce your strength meter. So grab your battle armor, courageous one, and begin!
The higher you score, the more coins you earn!
Multi-level action!
Play the Warrior's Quest online game at IWON! Try this and other Action and Sports games at the best gaming site on the Web!
Play Now
|
Register
Tags:
Sports Games
|
Online Games
|
Action Games
|
Flash Games